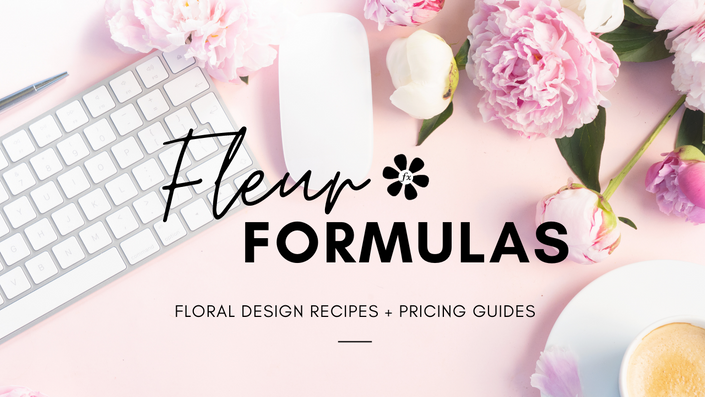 FLEUR FORMULAS
Floral Design Recipes + Pricing Guides
If you find yourself overwhelmed, overworked, and with little to no profit to show for...you're in the right place.
Blooming a Business is NOT easy.
Designing and pricing for PROFIT is the most challenging part.
I get it. I've been there before.
When I started my business in 2005, there were no resources available to teach me how to build my business. I literally "WINGED IT" and "GUESSTIMATED" the price I put on my work. I had no idea what to price my designs at, and I paid the price. BIG TIME.
I learned everything through trial and error with many hard lessons learned along the way. It's hard to admit but, I was NOT PROFITABLE for years.
Worst of all, I felt defeated and burned out with little to NO PROFIT to show for it.
How was it possible that I was working SO hard but NOT making any money?
MY WAY OF PRICING WAS SO WRONG, IT HURTS TO ADMIT.
Sound familiar?
If you find yourself puzzled by how to build recipes for the designs your clients want, what approach to take when creating, what to price things at so that you actually make money, overbuying product, underpricing your worth....it's time to change that NOW.
That's why I have partnered with some of the top floral designers and entrepreneurs to bring you a resource that you can't get anywhere else.
Introducing FLEUR FORMULAS
A resource that provides you with design recipes + pricing guides from florists around the world!
These designers provide you with the tools you need to create with confidence, price for profit, and take your business to the next level.
NO MORE
Guesstimating your pricing that doesn't cover the bills

Overbuying product that only gets trashed in the end

Underbuying product that only stresses you out when you realize it! Ooops!

Wasting time trying to figure out what flowers and stems-counts a design requires

Designing with overwhelm and frustration that sucks the joy out of your work
SAY HELLO TO MORE
Profit so that you actually pay yourself for all that hard work!

Ordering with confidence so that you don't come up short or waste money on extra

Saving time taking out the guessing game in your process and be more efficient

Designing with confidence and rediscovering WHY you got into business in the first place!
Most importantly?
You'll finally start treating your BUSINESS like a BUSINESS.
I don't know about you, but running a floral business is NOT AS GLAMOROUS as it is made out to be. It is NOT just a hobby...
It is the opportunity to grow your passion into profit!
Ready to make that happen?
Good. You deserve it!
WHAT DESIGNS CAN YOU EXPECT?
Weddings
Bouquets

Corsages / Boutonnières
Floral Crowns
Centerpieces
Arches
Chuppahs
Cake Tables
Sweet Heart Tables
Installations
Suspended
Wall Structures
Staircases
Retail
Funeral
Arrangements
Seasonal
and more...
Here's what's included in each FLEUR FORMULA!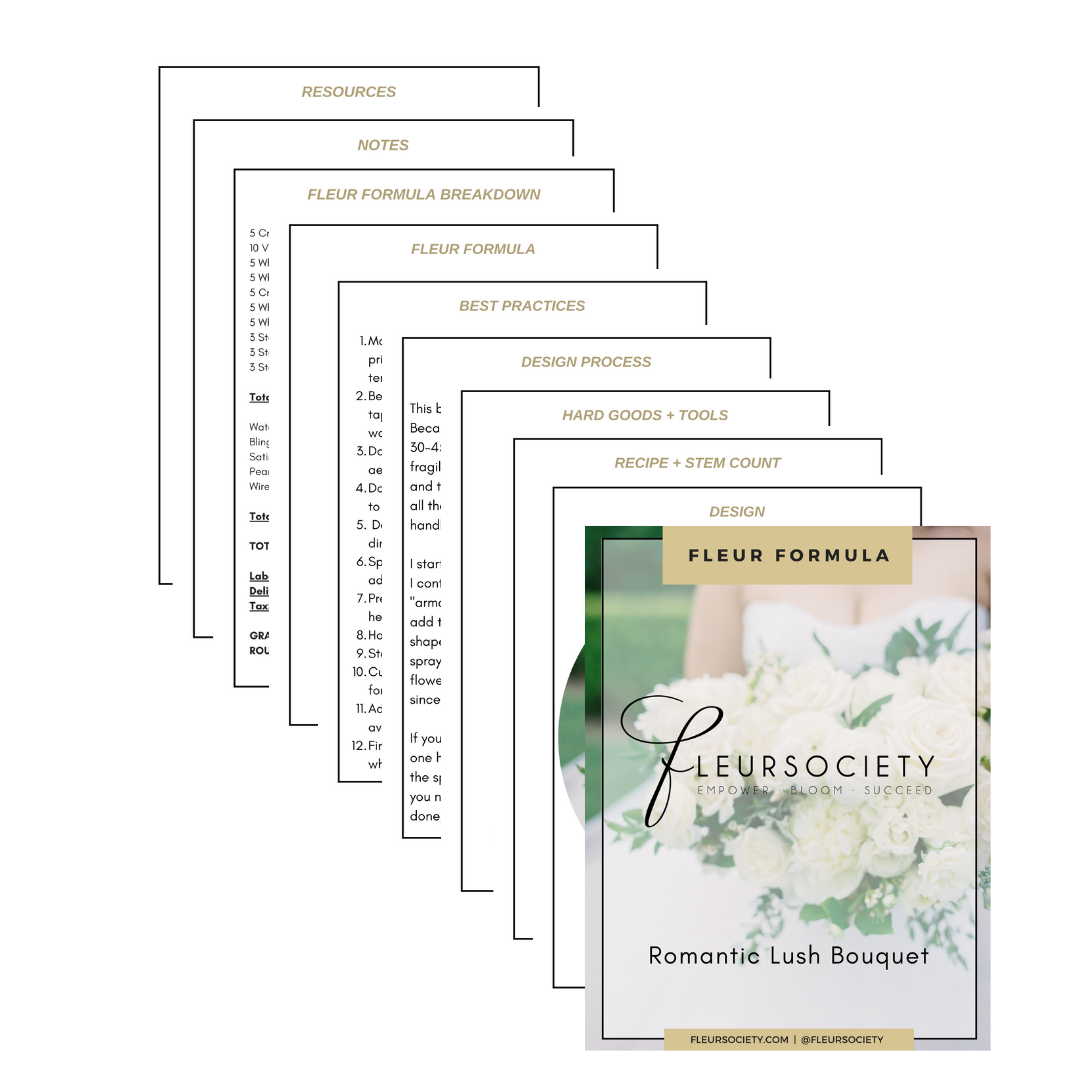 Photo of Design
Recipe + Stem Counts
This is also PRINTER-FRIENDLY for you to add to a binder for easy access!
FLEUR FORMULAS
100+ Recipes + Pricing Guides by some of your favorite florists around the world for ONLY $197!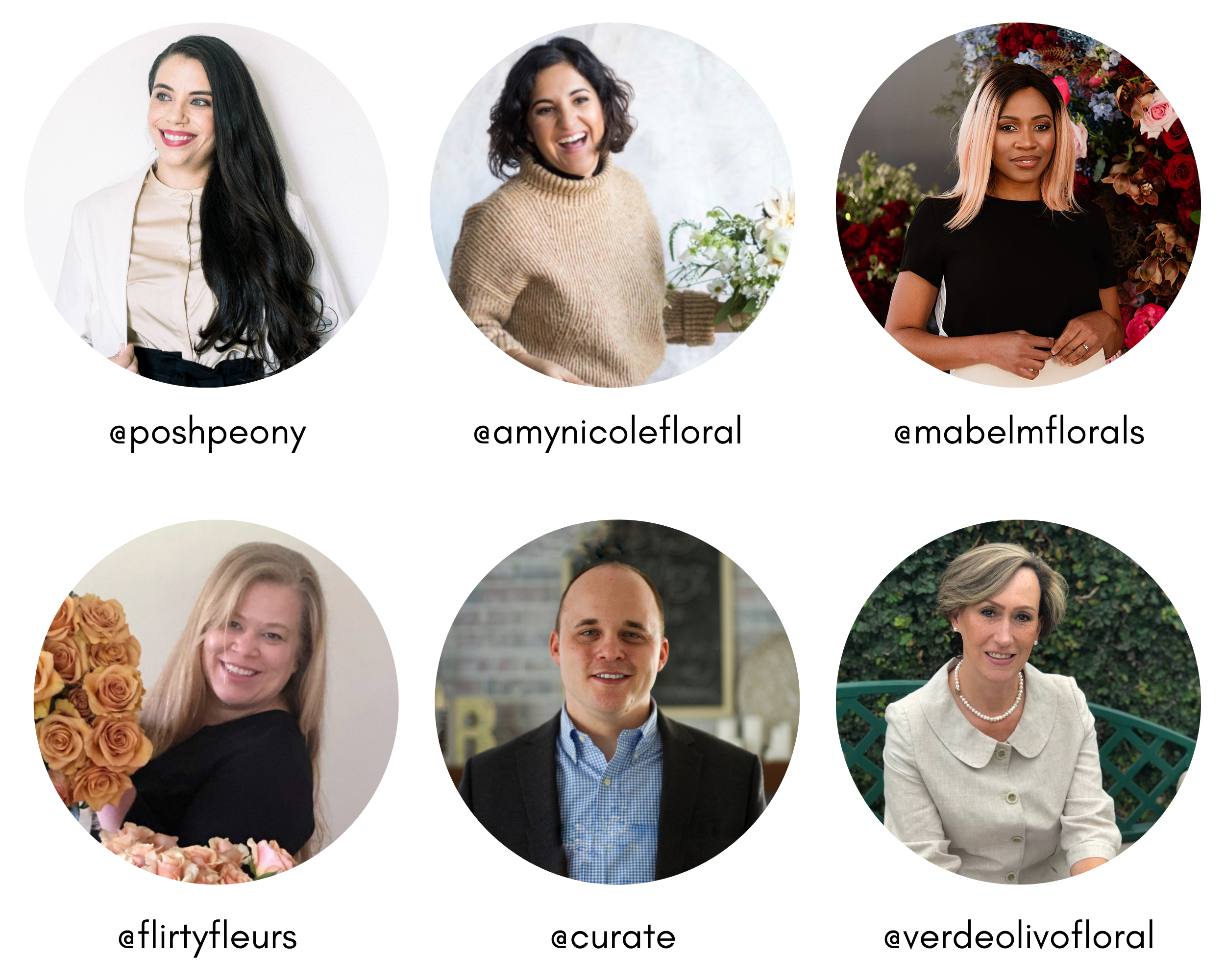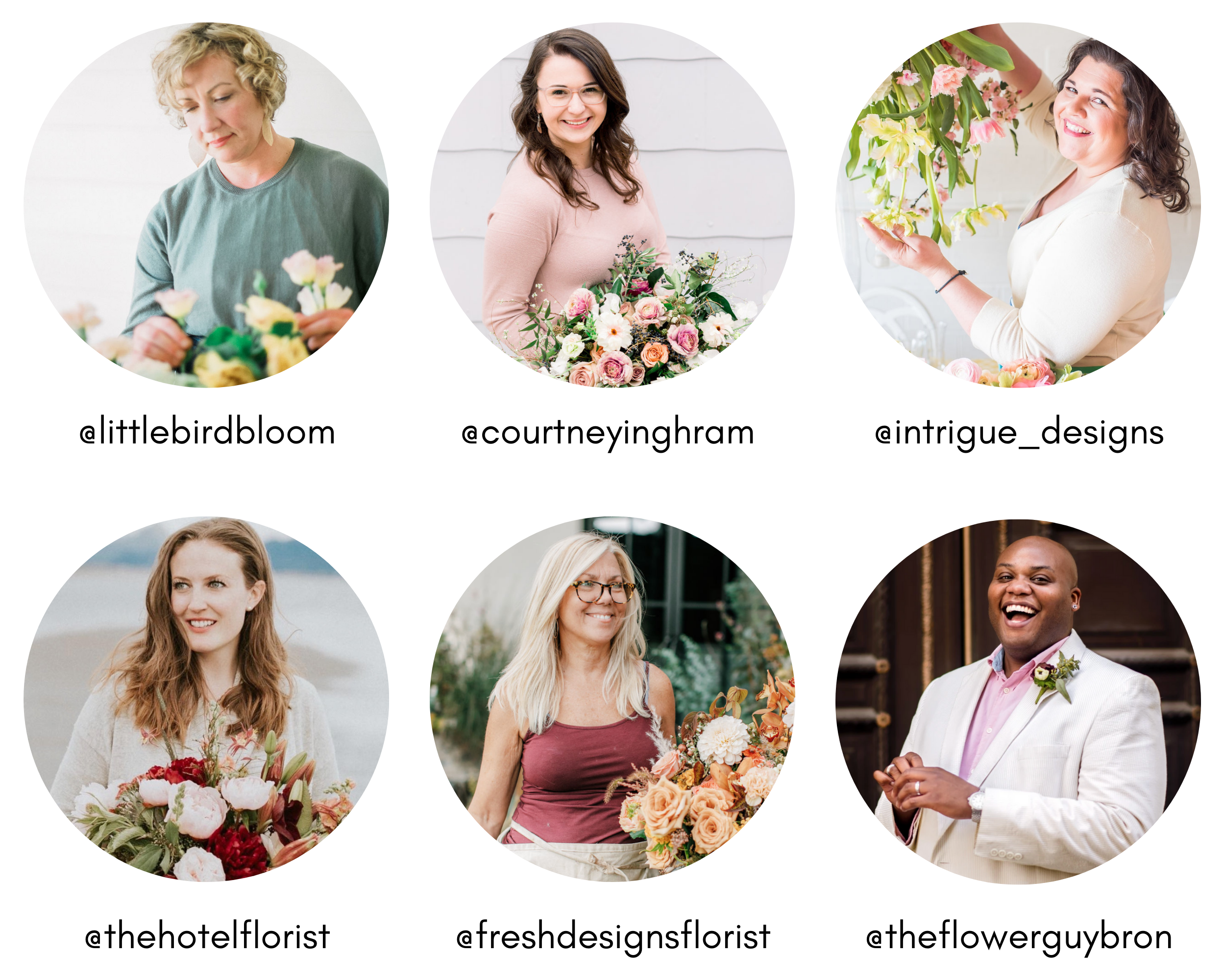 AND MANY MORE AMAZING DESIGNERS!
WHAT'S INCLUDED?
Here's what you're getting so far...

2022 FLEUR FORMULAS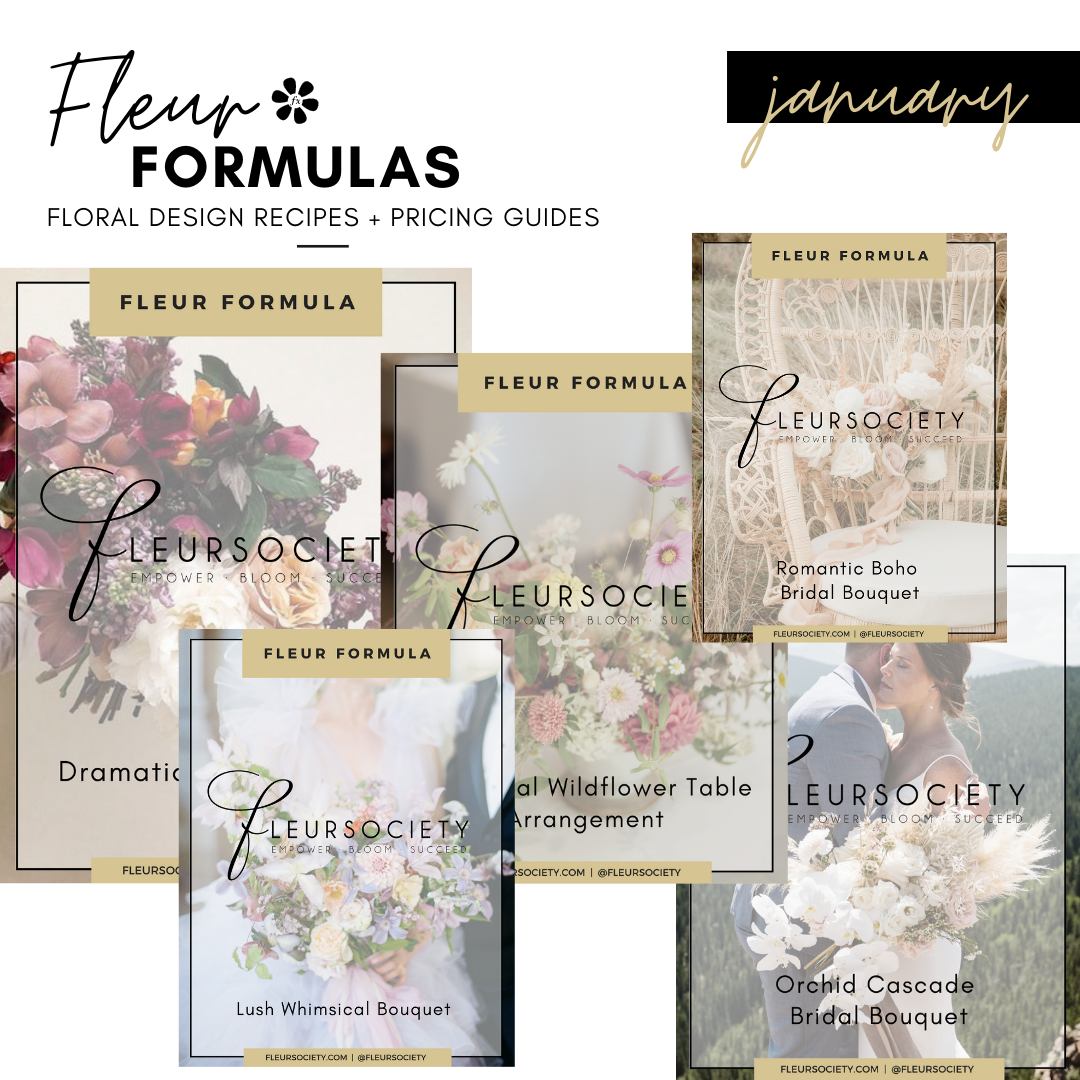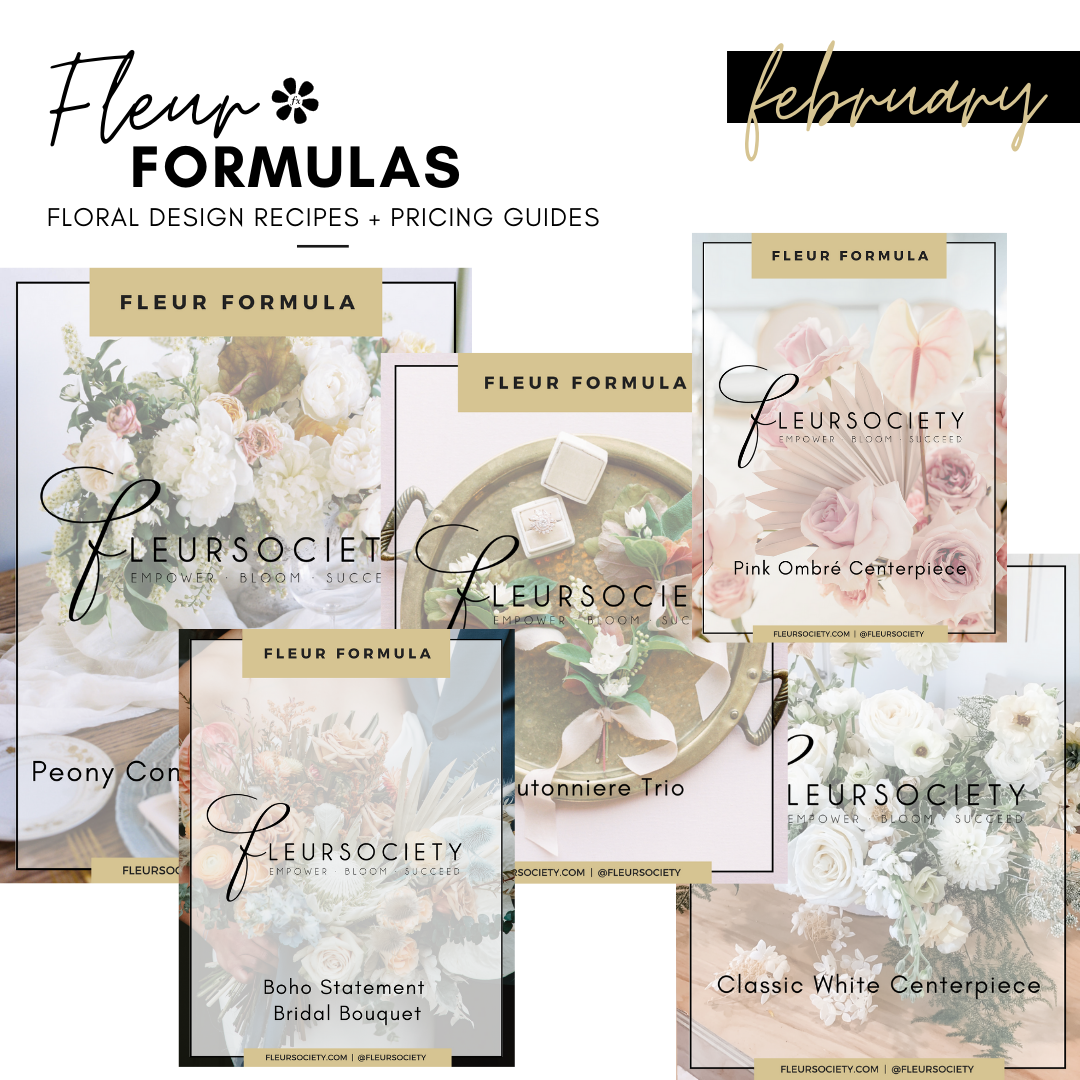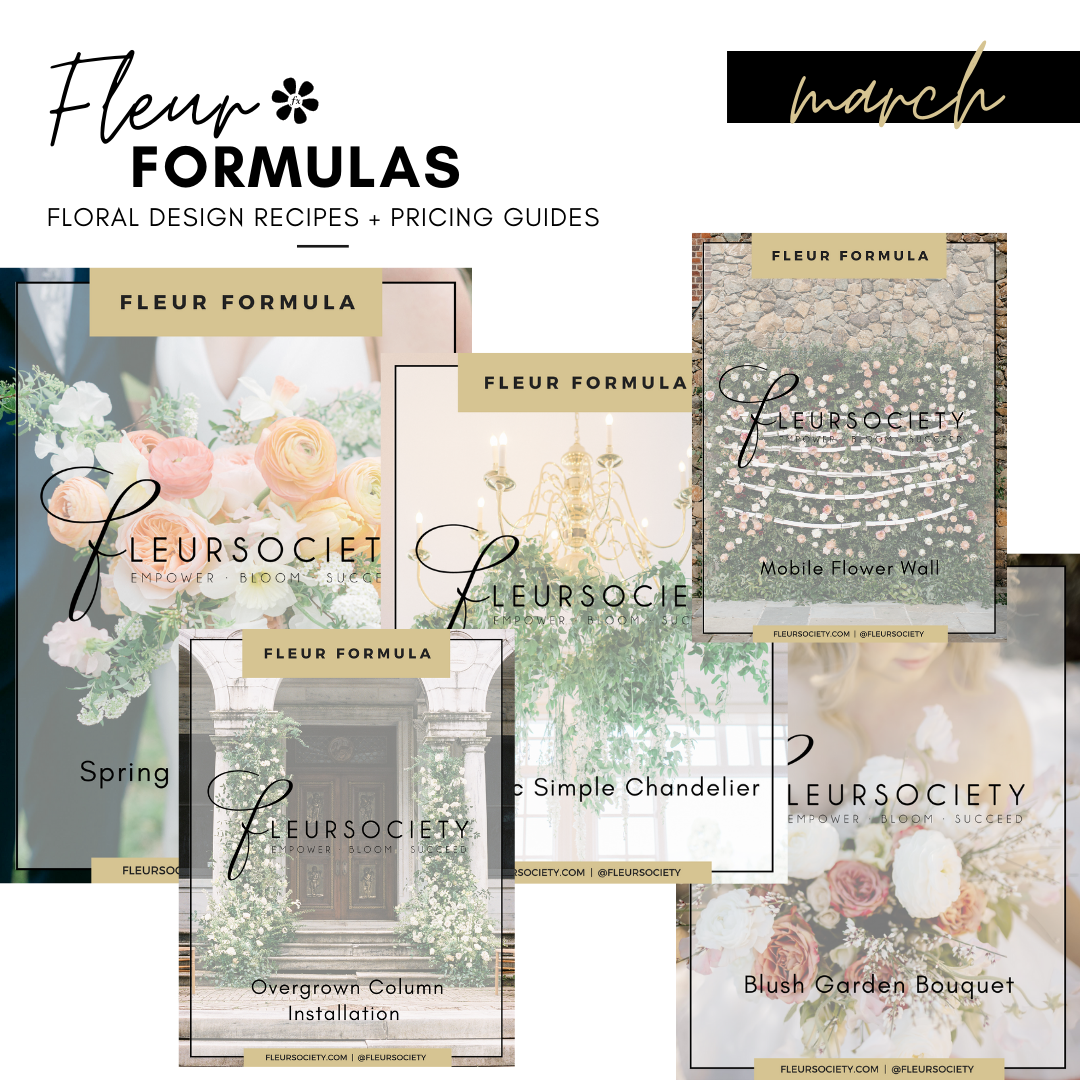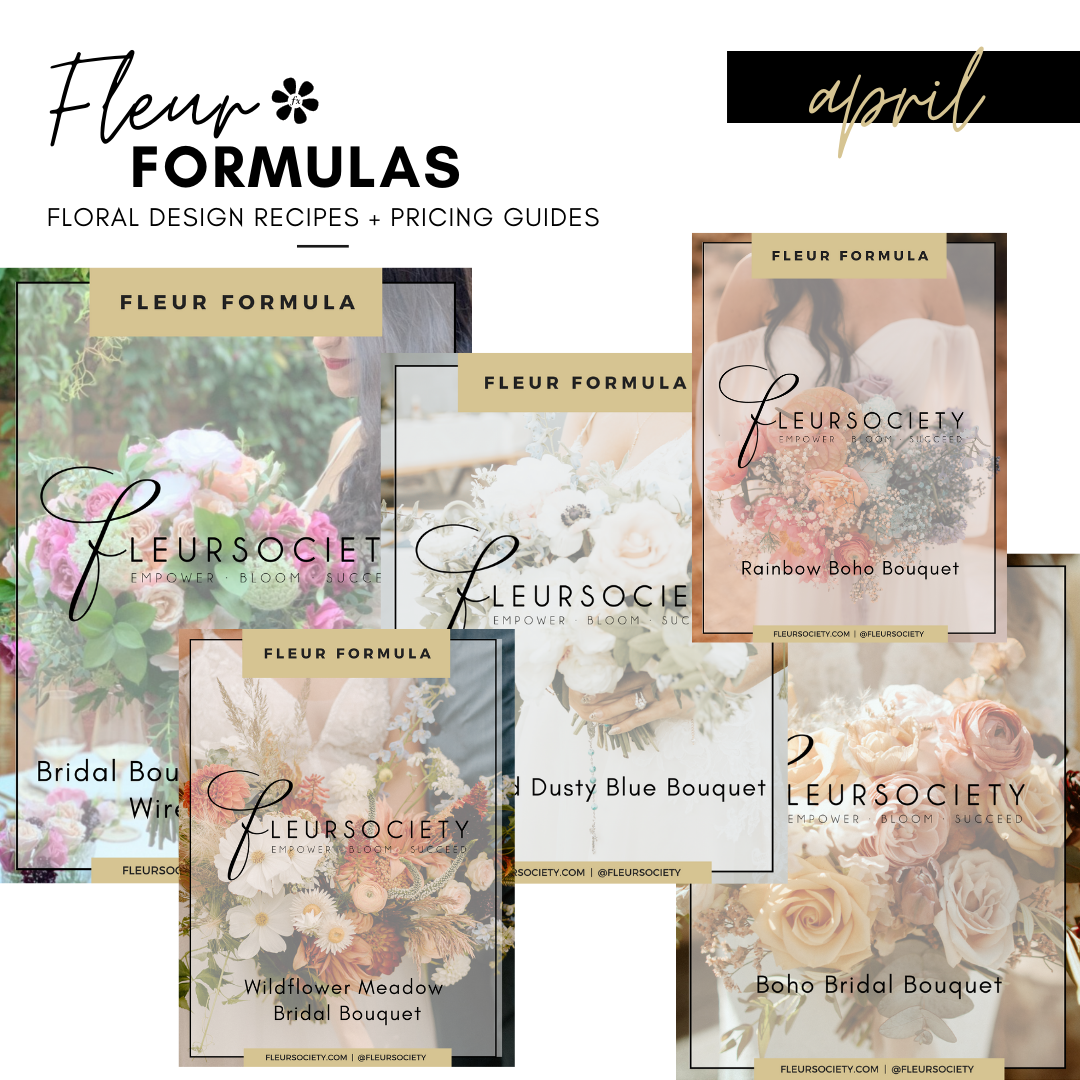 2021 FLEUR FORMULAS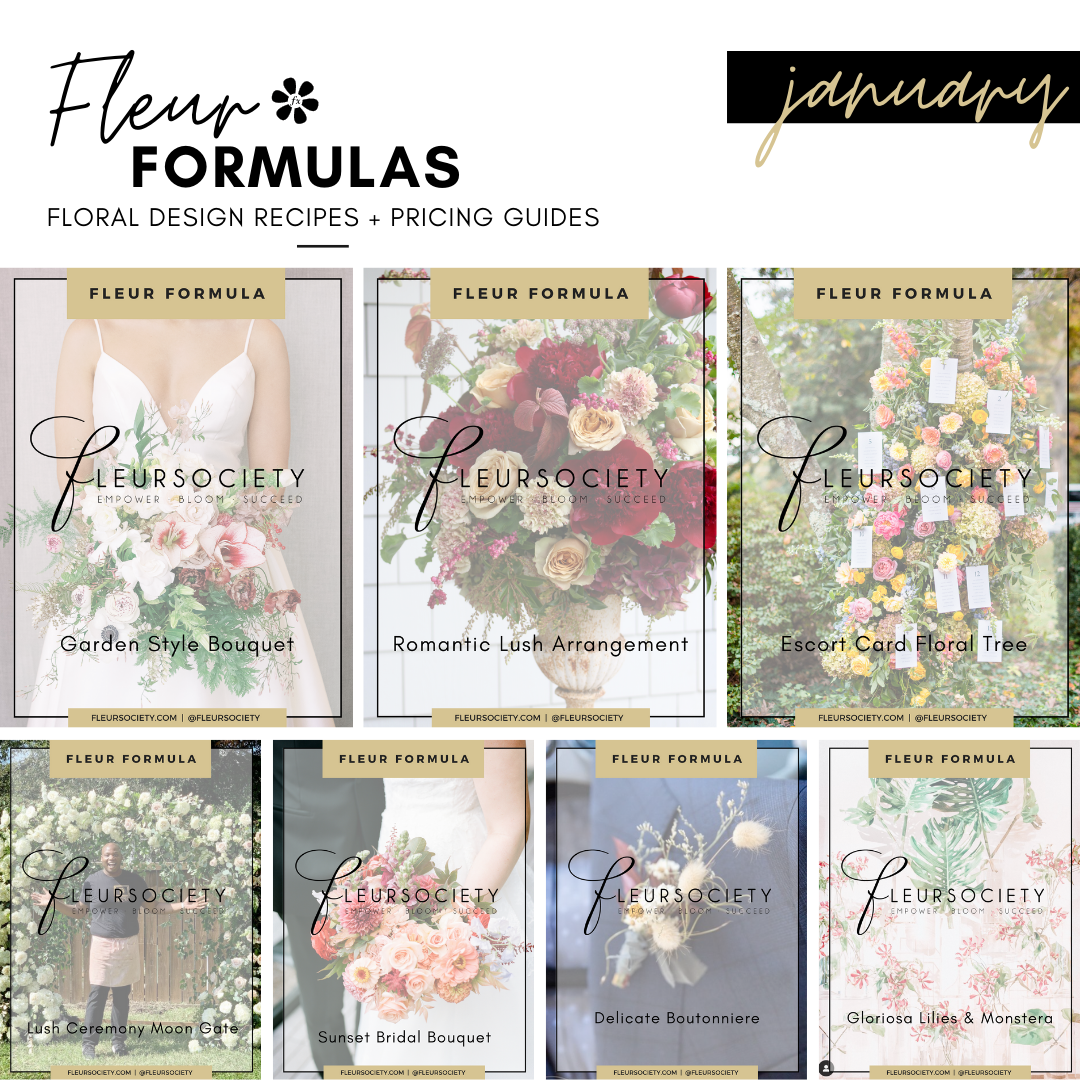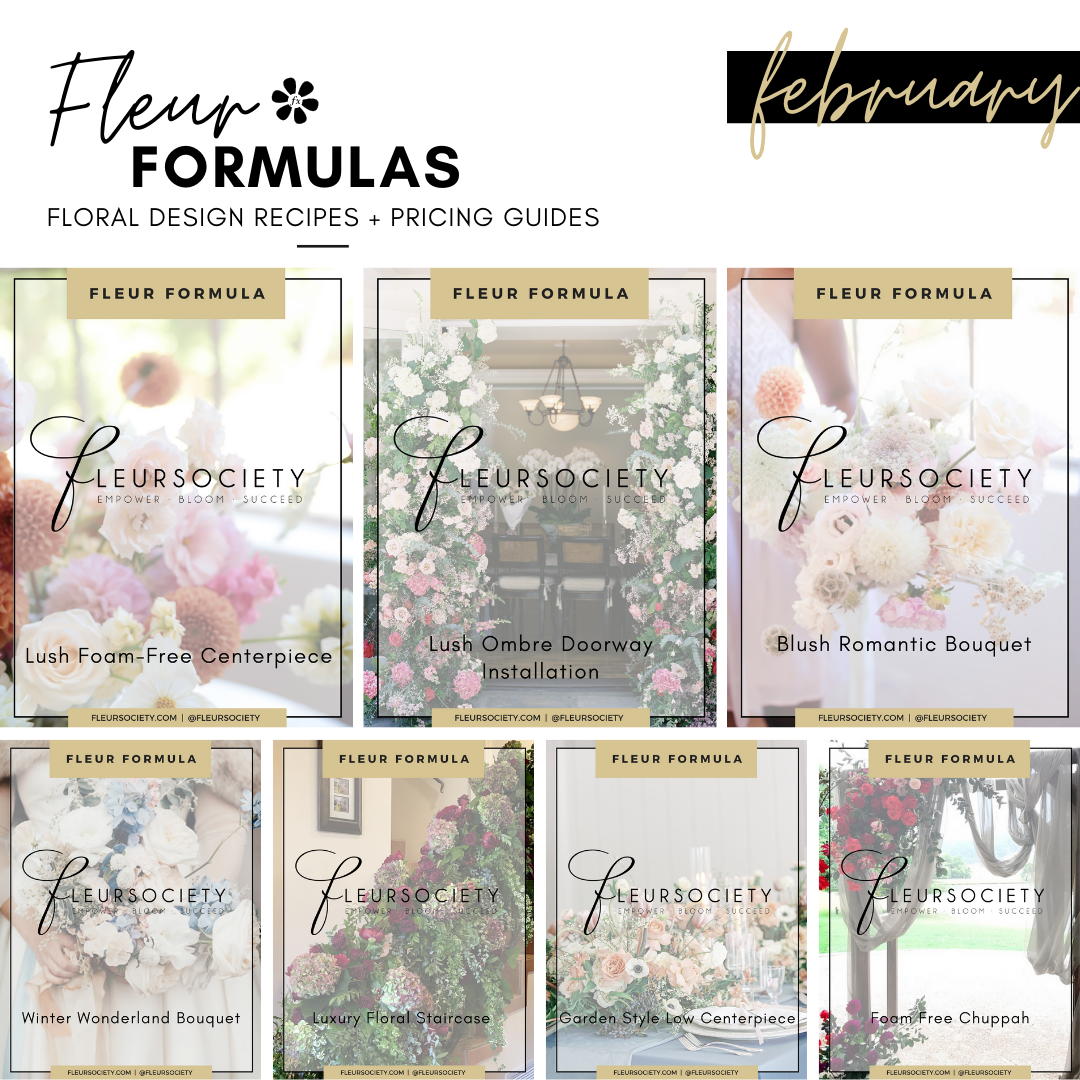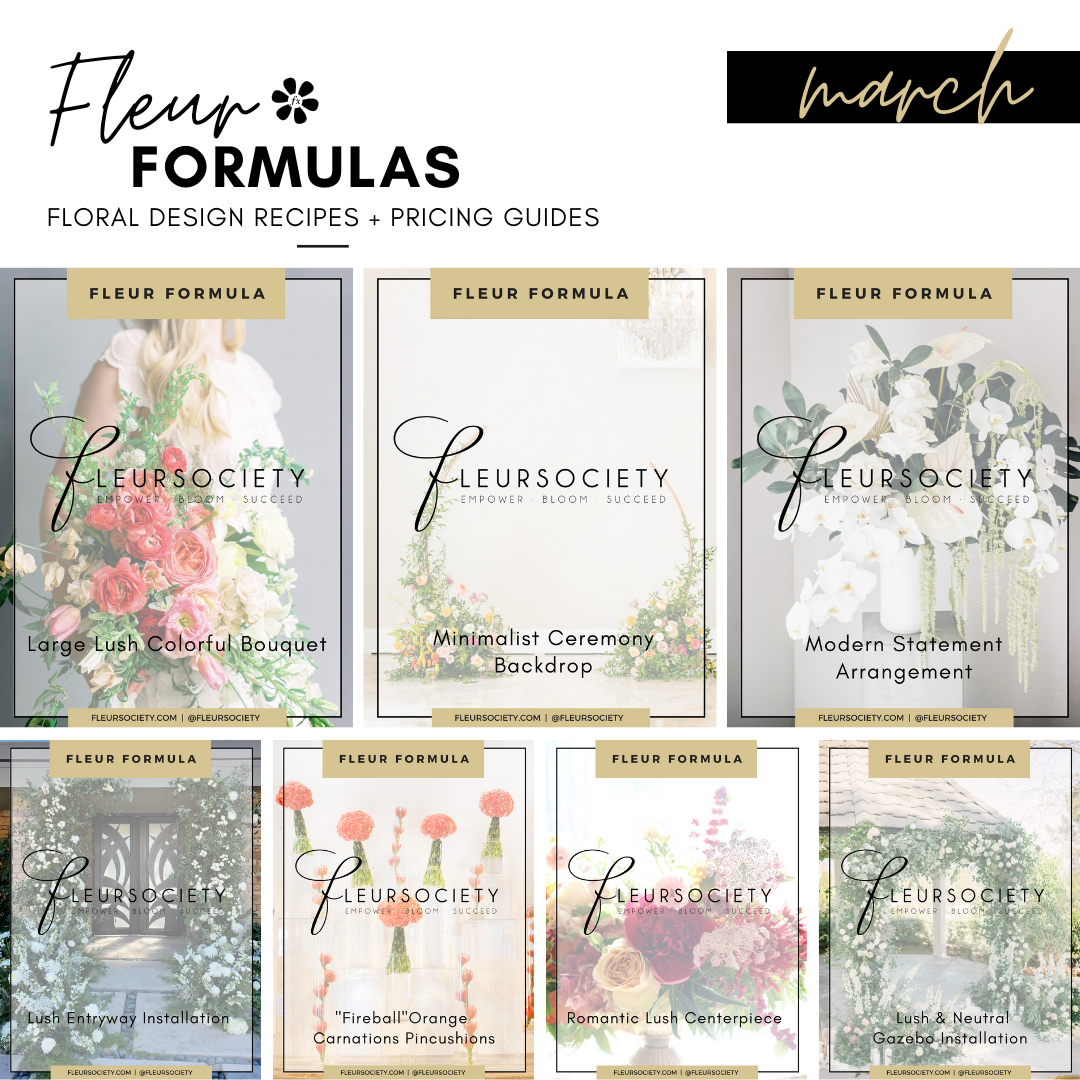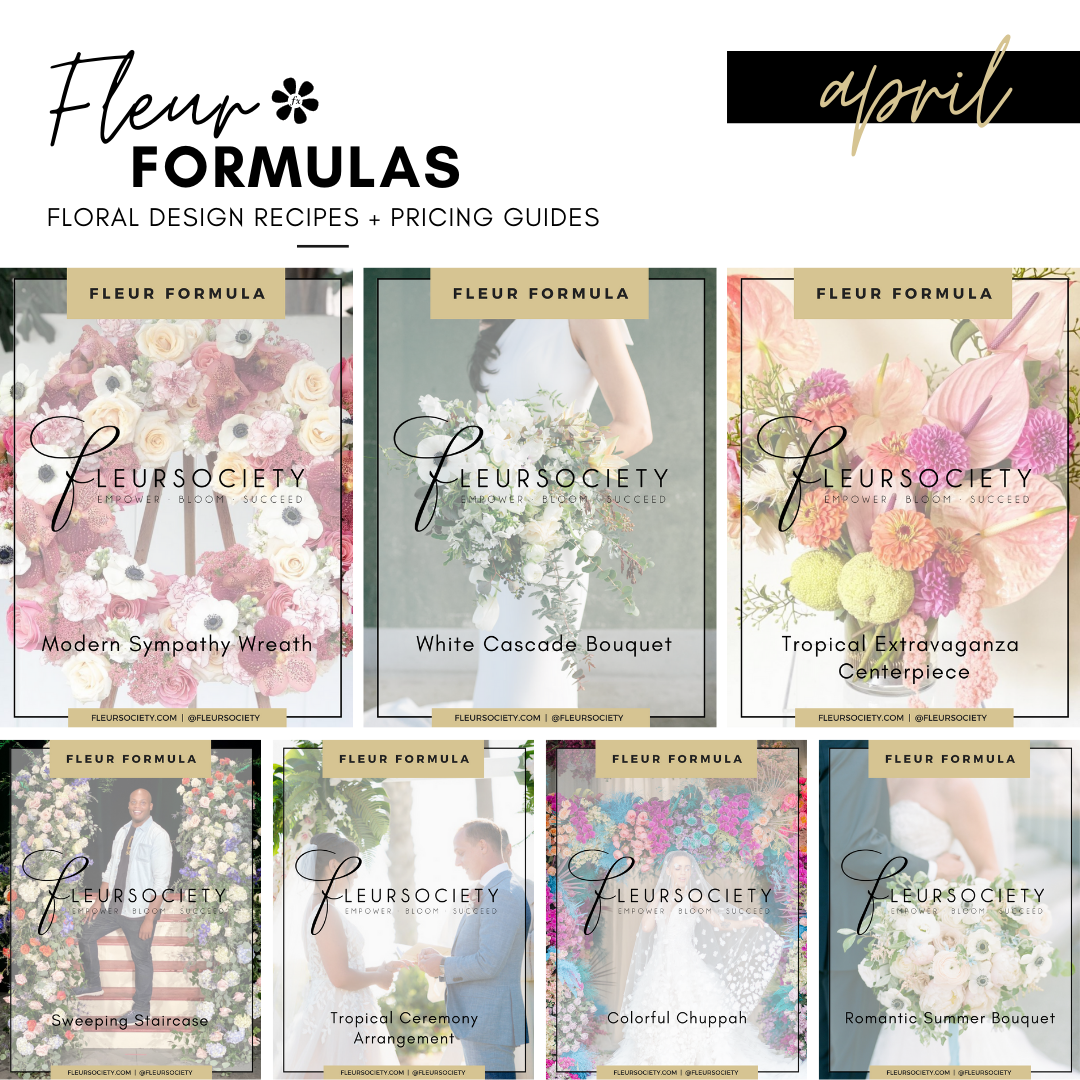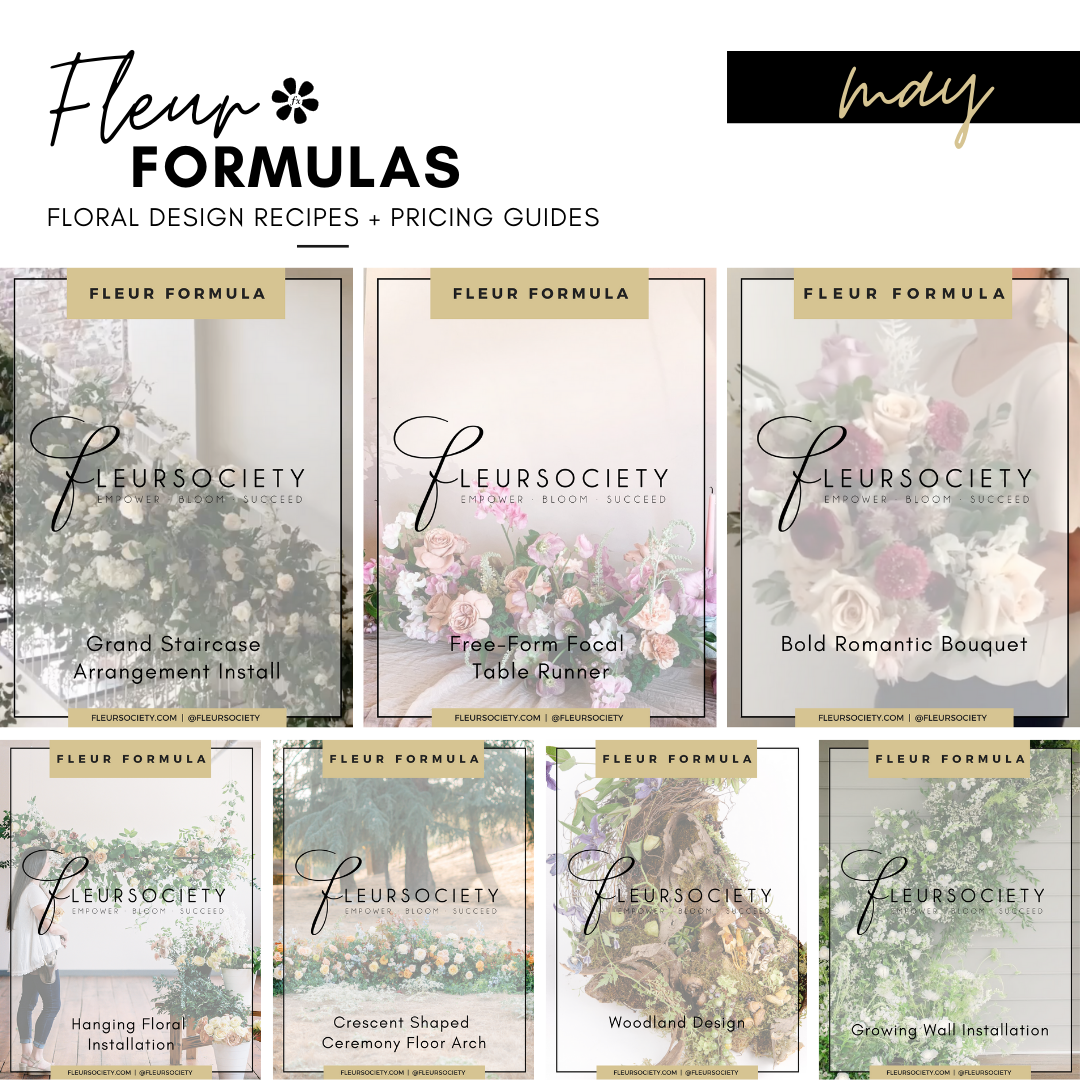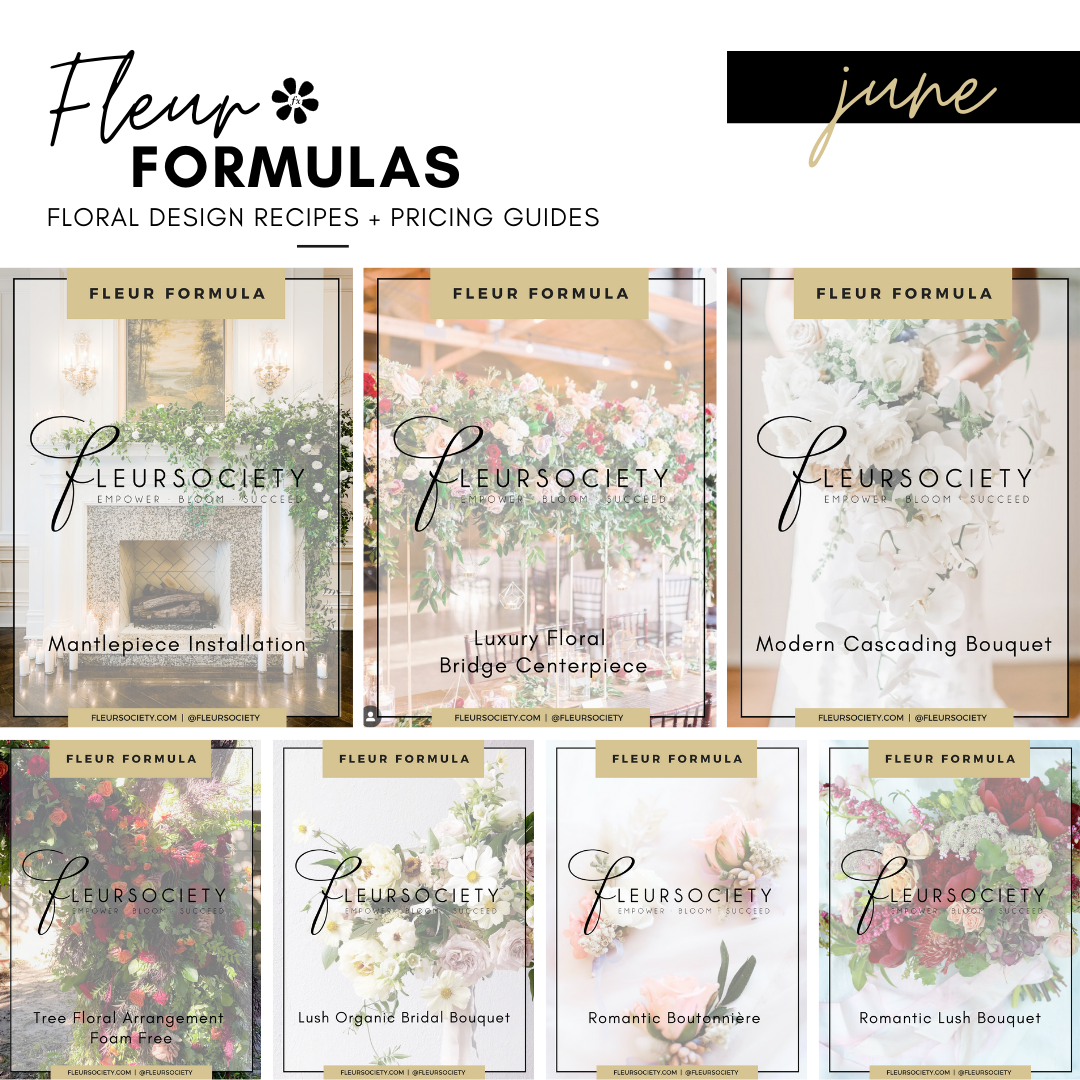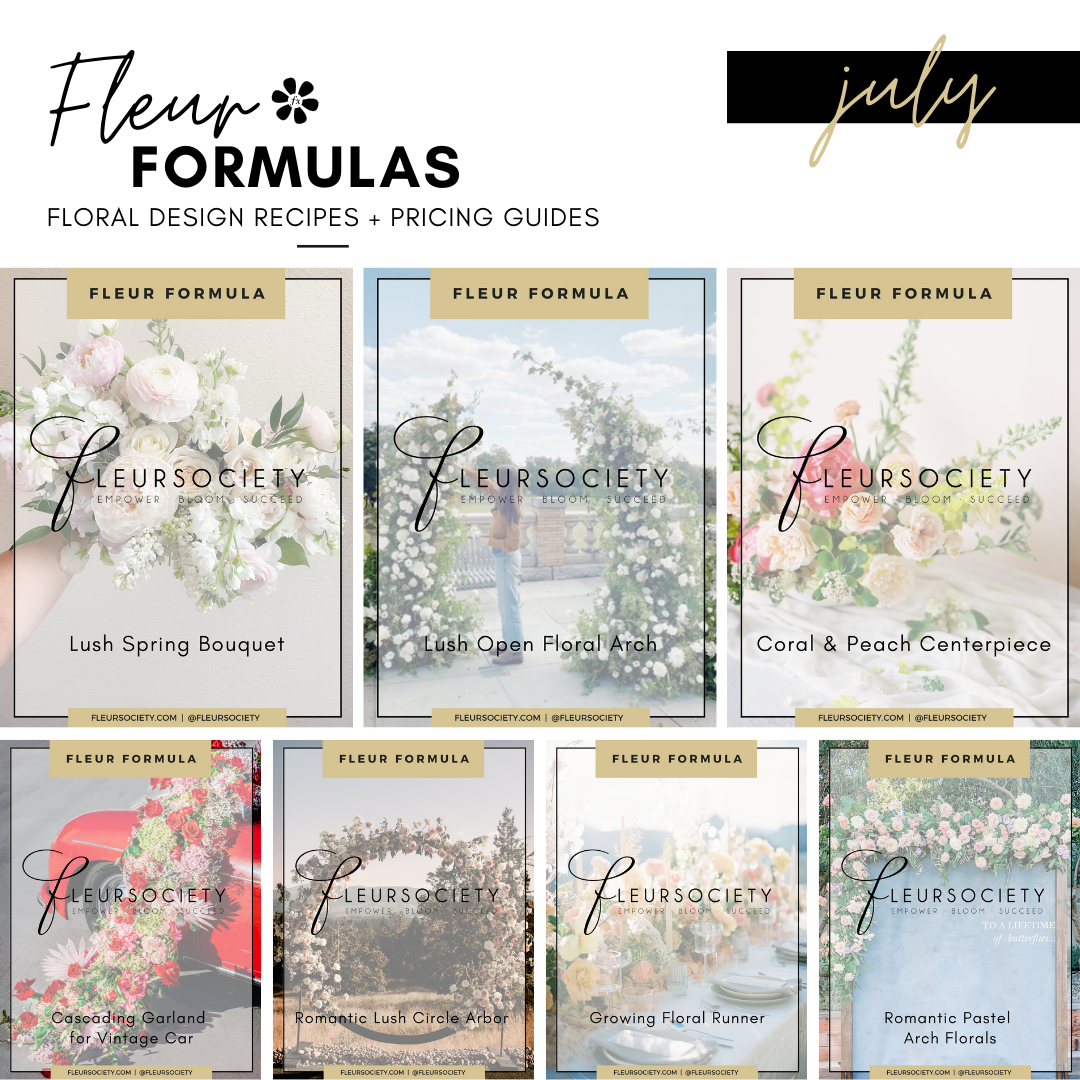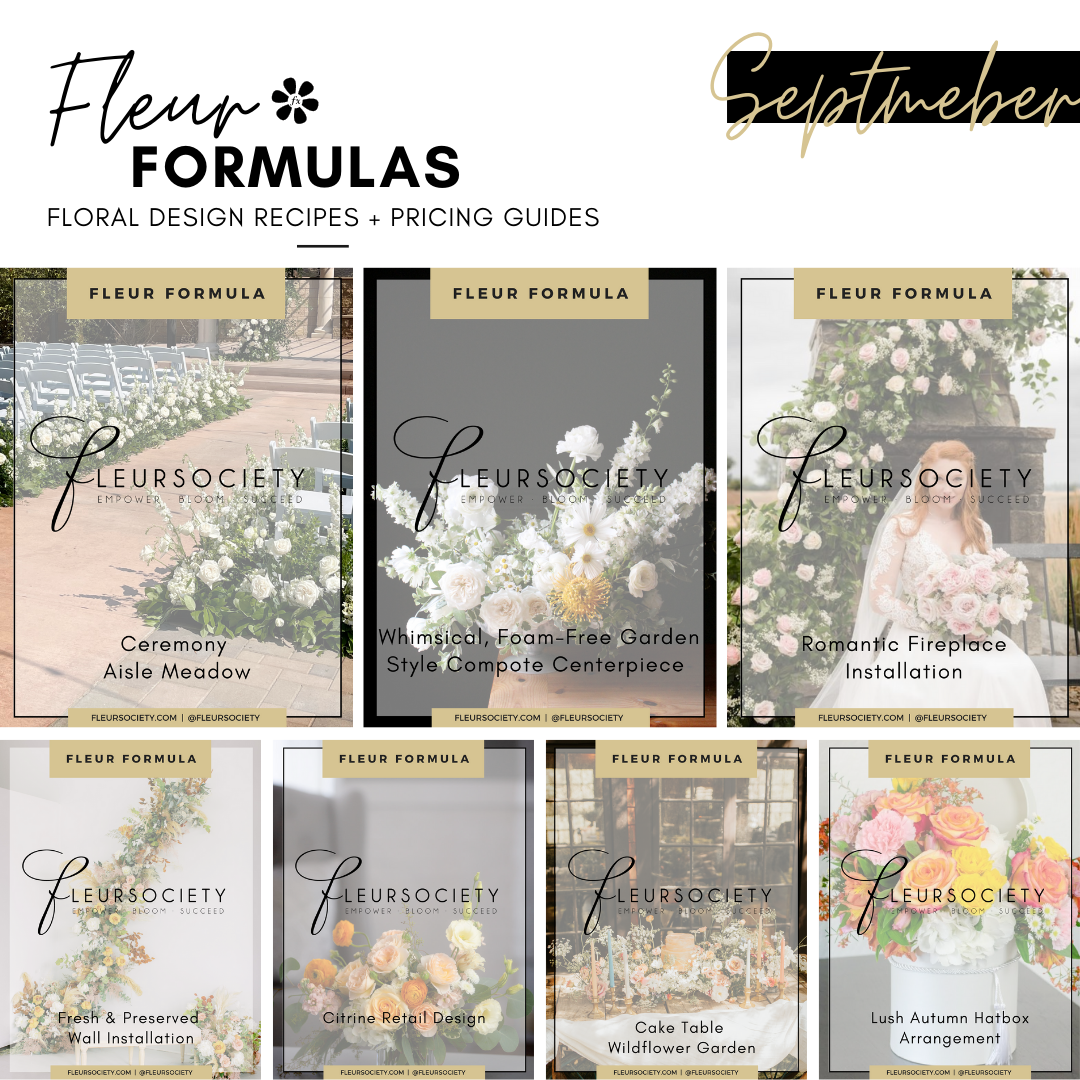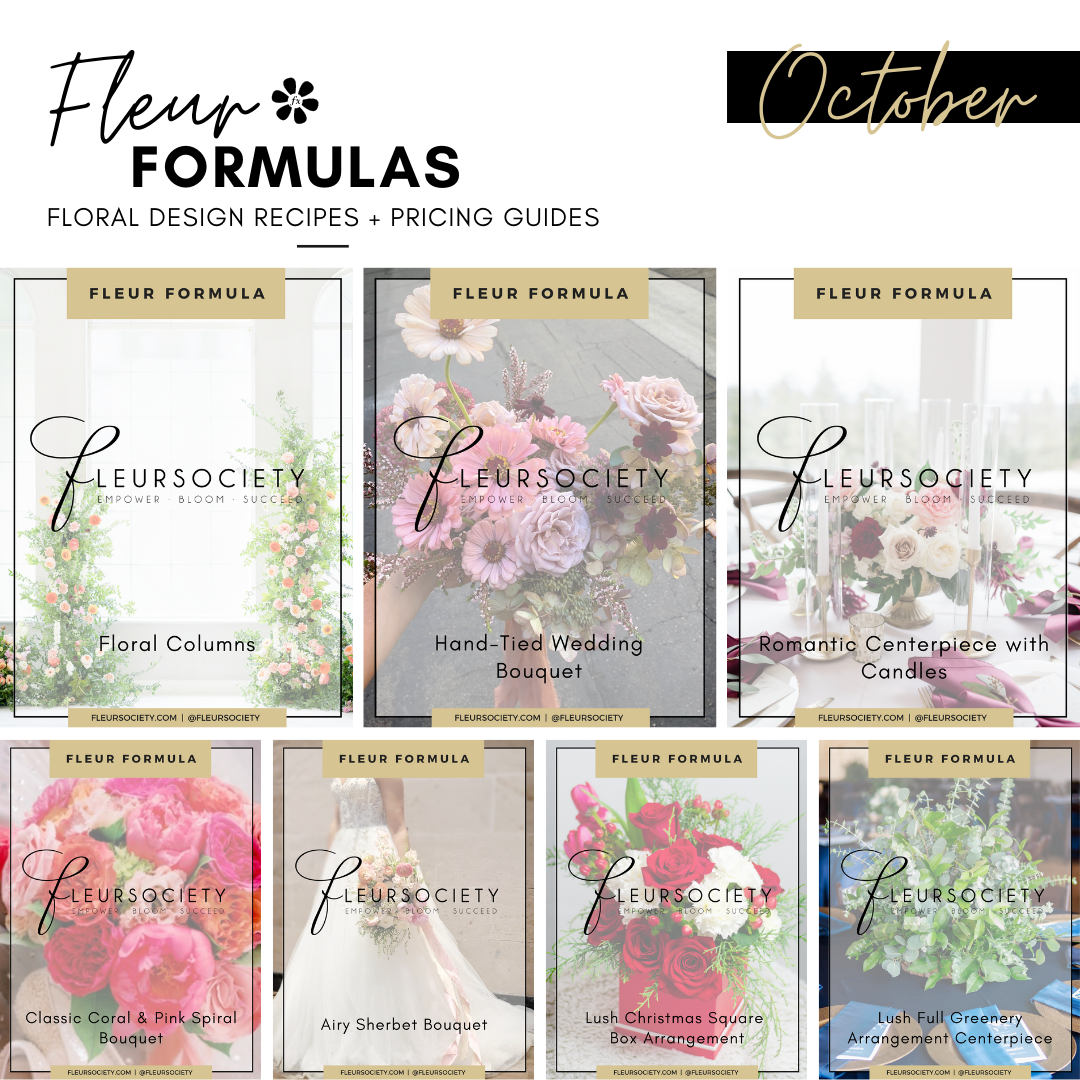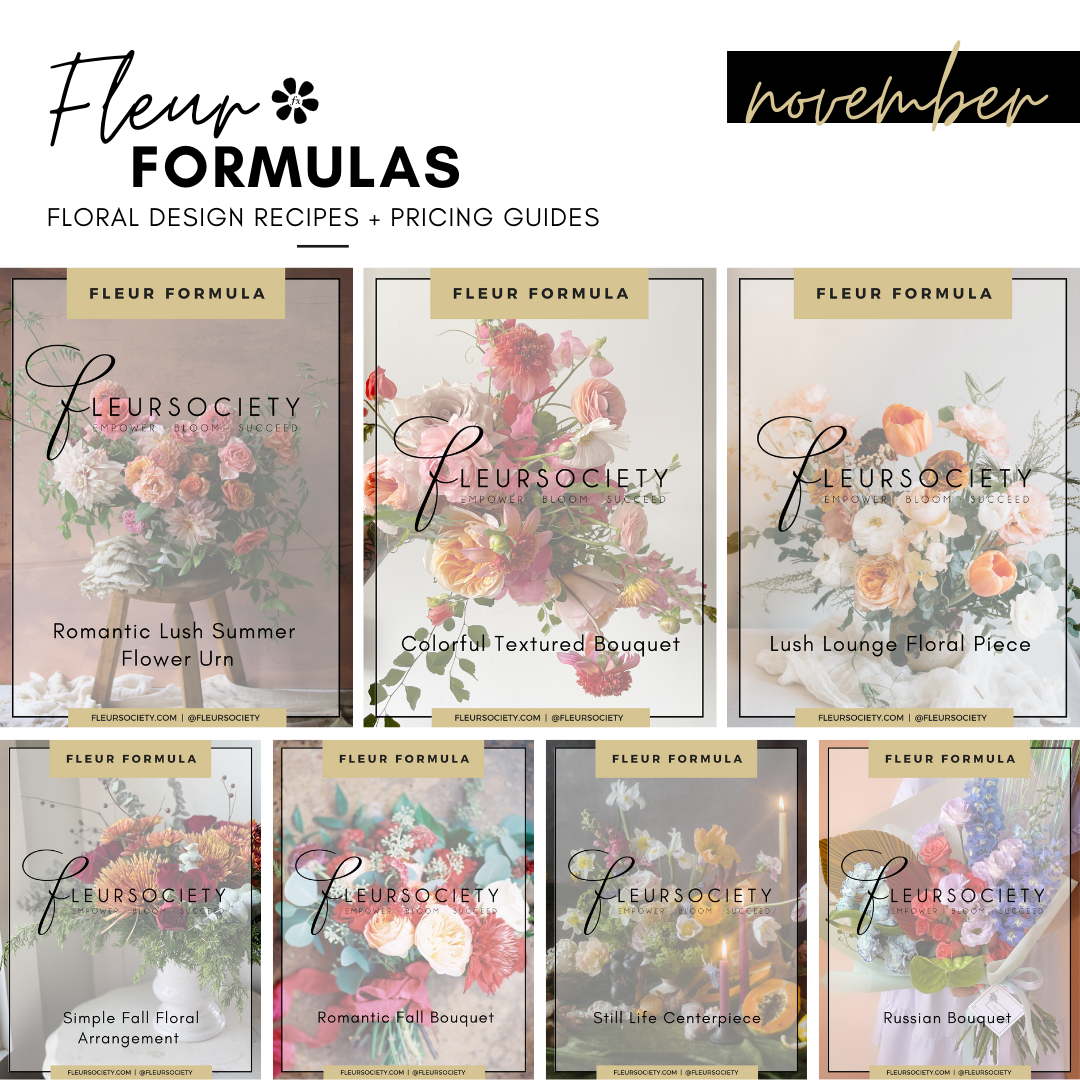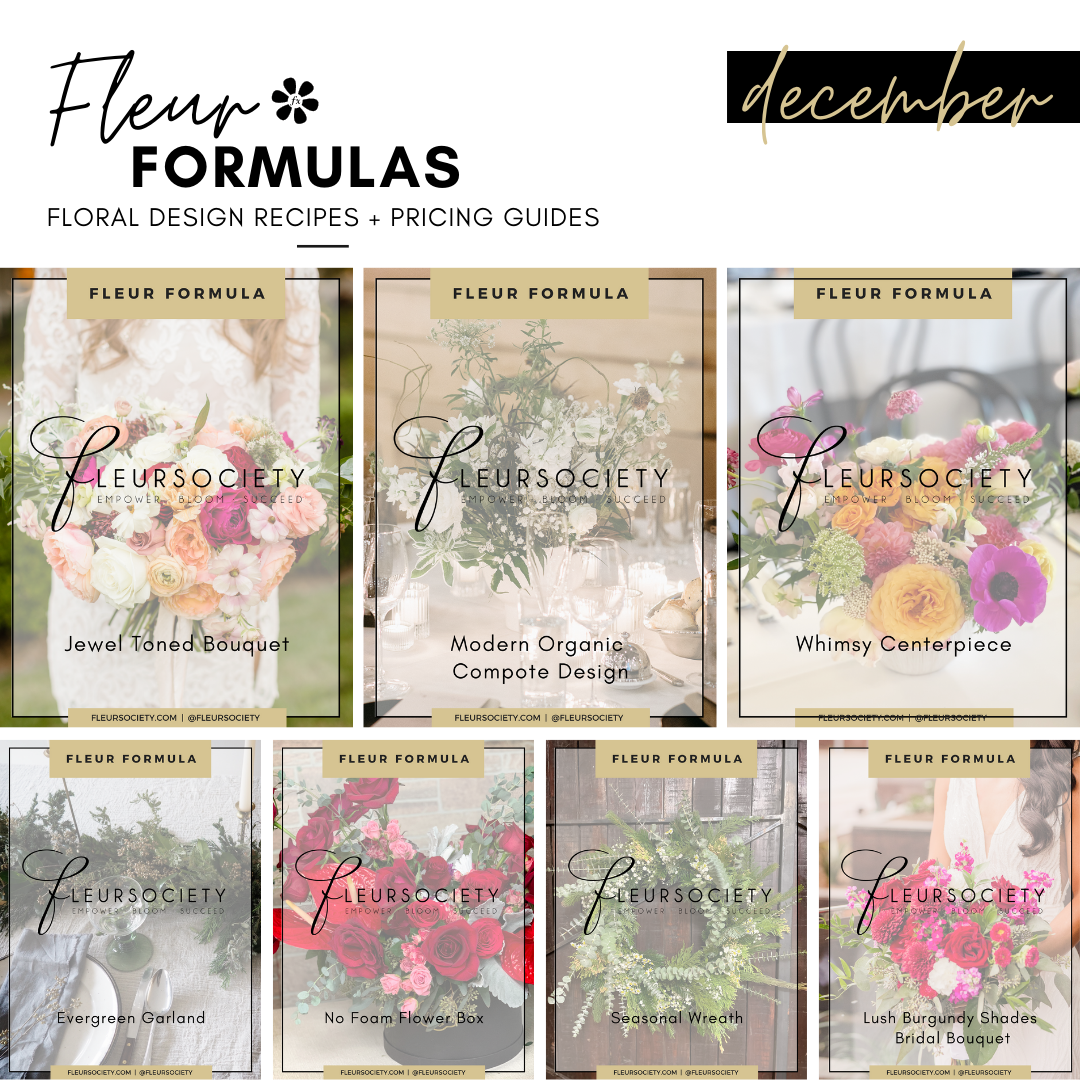 PLUS THESE POSH PEONY SIGNATURE DESIGNS!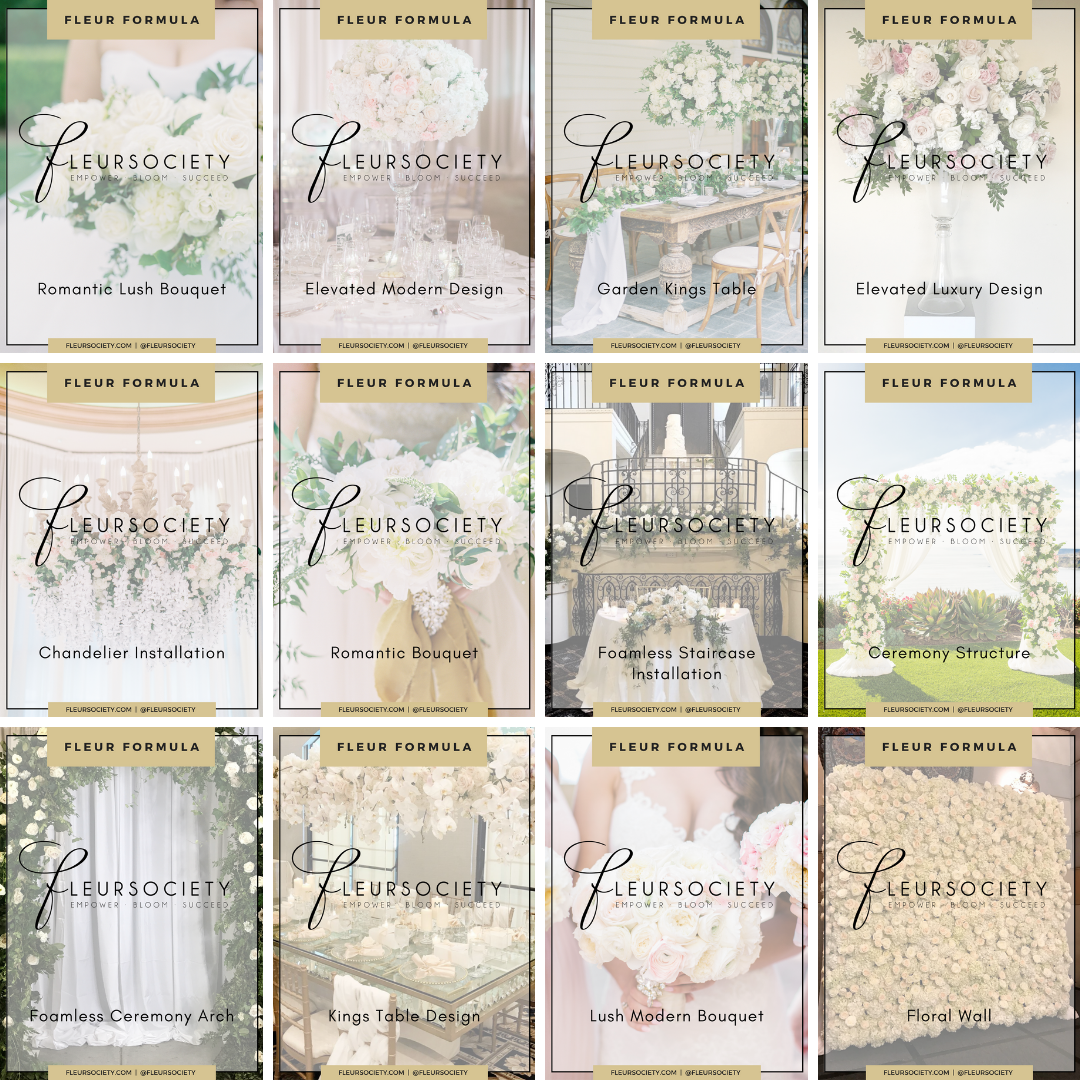 Ready to DESIGN with CONFIDENCE and PRICE for PROFIT?
LET'S DO THIS.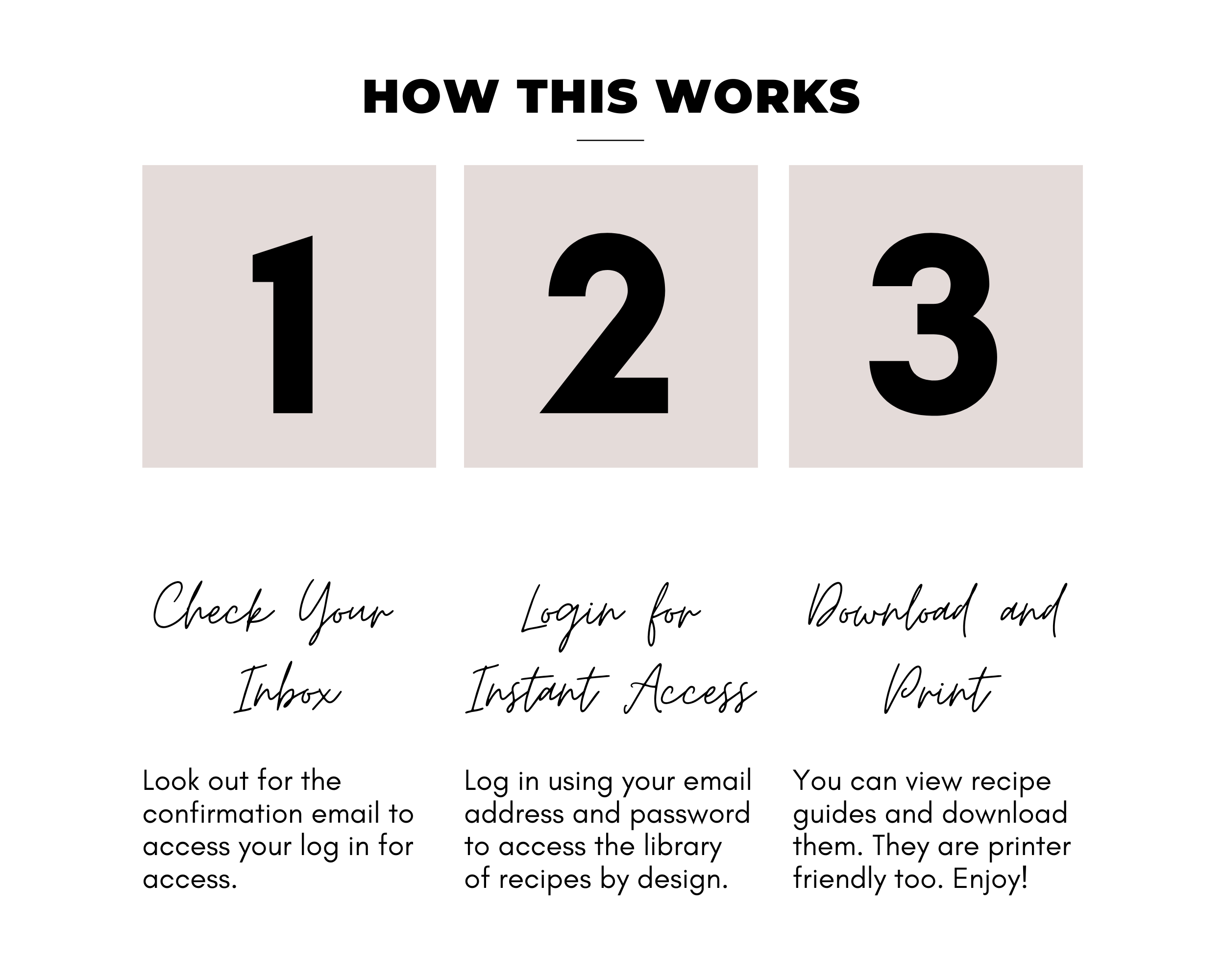 Frequently Asked Questions
What does $197 include?
You are getting 100+ floral recipes + pricing guides in this resource. You'll get instant access to some recipes provided by FLEURSOCIETY! You're welcome! :) This is a ONE TIME purchase!
How long will I have access to this resource after I purchase?
You'll have access for the lifetime of this resource. So make sure to download everything right away!
How will I access ALL the resources?
It's quite simple actually. Once you purchase, you will be sent a confirmation email that allows you to confirm your account. Once you're in, you will have access to each recipe! Everything will be available inside of our platform!
Can I purchase this as a gift?
You sure can! Go ahead and purchase with your email. As soon as you are ready to gift it, all you have to do is log into your account settings and change the email address to the person your are gifting it to. PS. You'll get brownie points with anyone you buy this for. Good thinking! :)
Is there a money-back guarantee or refunds?
No, sorry. Due to the digital nature of this product and its immediate access, we cannot offer any refunds and sales are final. Please keep this in mind before you purchase as there will be no exceptions. If you have any questions about the content, please reach out before buying so we can clarifying any of your concerns. However, we are confident you are going to LOVE this resource!
I'm in the beginning stages of building my business. Is this a good fit?
Absolutely. 100%!!!! Let me tell you, when I started my business back in 2005, I had ZERO resources available to me. If I could get my hands on this resource, I'd buy it in a heartbeat. It's the fast track to your success with design and pricing to guarantee you are no undervaluing your work. No more guessing games. Say hello to profitability!
Your Instructor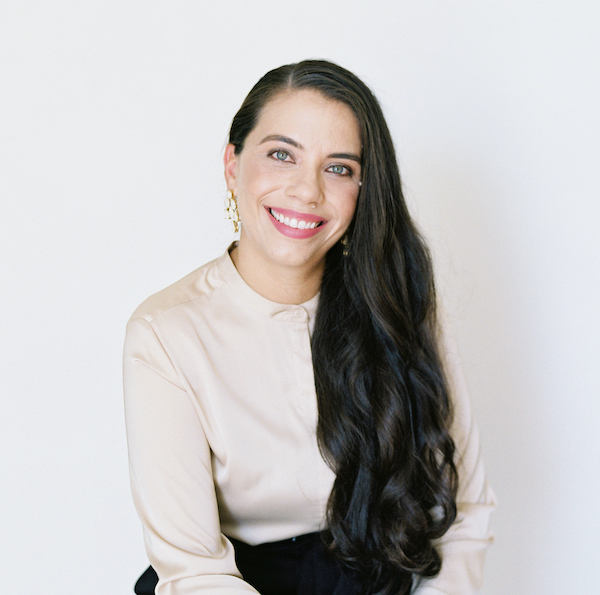 I'm Cristina Barragan, Owner and Chief Creative Officer at Posh Peony and I have always had a love and passion for all things floral and design. In 2005, I started teaching elementary education and at the same time, launched my full-time floral business. It was a balancing act, to say the least! Over the years, I have built my business from the ground up with no formal training or education. It was all a learning curve that I have been able to streamline over the years. I have been able to grow and scale my business which has allowed me to pursue my love of teaching in the event industry. Today, we are a boutique style studio that provides full-service design and educational workshops at a local and international level. Through my education business; Fleursociety, I am able to empower floral designers and entrepreneurs on how to build better businesses. Being able to serve my clients well, teach aspiring business owners, and promote community in the event industry is the greatest joy!
Since Fleursociety is offering non-tangible irrevocable goods, we do not issue refunds once the order is accomplished and the content has been sent/delivered/redeemed. As a customer you are responsible for understanding and acknowledging this upon purchasing this online summit and any item at our site.